Note: As we continue to get data, we will be updating and improving the quality of the data every day.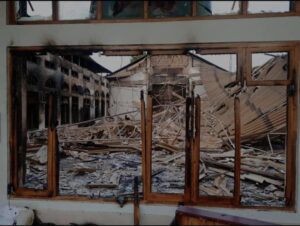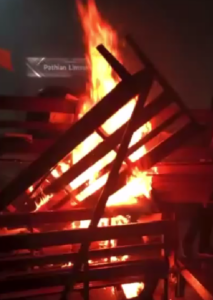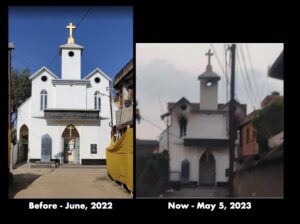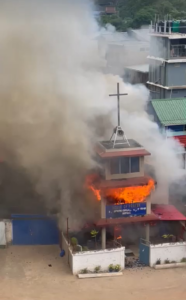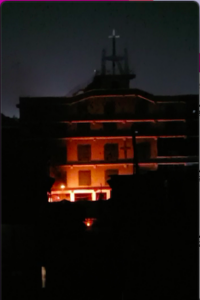 Rampaging crowds on the evening of May 3rd, 2023 and into the daylight hours of May 4th, 2023 burned churches all over the city of Imphal, targeting the hill-tribal population that are in the minority in the valley city of Imphal. They burned houses, cars, looted and dispossessed people of their lives work, and burned the churches they worship in.
The list of impacted church is current as of May 10, 2023 and provided by the CHURACHANDPUR DISTRICT CHRISTIANS GOODWILL COUNCIL .
This website is maintained by volunteers and is work in progress. We apologize for inevitable mistakes. Please bring them to our attention.
| NAME OF CHURCH | ADDRESS | STATUS | DATE OF ATTACK |
| --- | --- | --- | --- |
| ALONG KHUNOU BAPTIST | Along khunou | | |
| ARONG NONGMAIKHONG BAPTIST | Arong nongmaikhong | | |
| ASSEMBLY OF GOD CHURCH | Hawtak Bethel | Completely Burned | 04-May-23 |
| ASSEMBLY OF GOD CHURCH | Hawtak Kumbi | Completely Burned | 04-May-23 |
| ASSEMBLY OF GOD CHURCH | Ishikha | Completely Burned | 04-May-23 |
| ASSEMBLY OF GOD CHURCH | Langmeidong | Completely Burned | 04-May-23 |
| ASSEMBLY OF GOD CHURCH | Langmeithat | Completely Burned | 04-May-23 |
| ASSEMBLY OF GOD CHURCH | Nongmaikhong | Burned& Vandalised | 04-May-23 |
| ASSEMBLY OF GOD CHURCH | Tentha | Completely Burned | 04-May-23 |
| BAPTIST CHURCH | Unknown | | |
| BELIEVER'S EASTERN CHURCH (BEC) | Kakmayai | Destroyed | 03-May-23 |
| BELIEVER'S EASTERN CHURCH (BEC) | Kiyam Tempura | | |
| BELIEVER'S EASTERN CHURCH (BEC) | Lamding | | |
| BELIEVER'S EASTERN CHURCH (BEC) | Narenkonjin | Destroyed | 03-May-23 |
| BELIEVER'S EASTERN CHURCH (BEC) | T Lhangkichoi | Burned& Vandalised | 03-May-23 |
| BELIEVER'S EASTERN CHURCH (BEC) | Tekcham Khunou | | |
| BELIEVER'S EASTERN CHURCH (BEC) | Tentha | Destroyed | 03-May-23 |
| BELIEVER'S EASTERN CHURCH (BEC) | Thumkhonglok | Burned& Vandalised | 03-May-23 |
| BELIEVER'S EASTERN CHURCH (BEC) | Ukhongsang | | |
| BELIEVER'S EASTERN CHURCH (BEC) | Unknown | | |
| BELIEVER'S EASTERN CHURCH (BEC) | Wangband | | |
| BISHNUPUR NAHA BAPTIST CHURCH | Bishnupur | | |
| BROTHERN ASSEMBLY | Tentha Tuwaband | | |
| CALVARY CHURCH (CC) | Sibhanagar Khongjom | Destroyed | 03-May-23 |
| CHRIST CHAPEL | Khangabok | | |
| CHURCH OF CHRIST (COC) | Changangei -Ucheckon | Burned& Vandalised | 03-May-23 |
| CHURCH OF THE NAZARENE | Wangoo Thongkhong, Kakching District | Properties Burneddown | 06-May-23 |
| EAC, CHURCH | Naodakhong, Bishnupur | Completely Burned | 26-May-23 |
| EASTERN MANIPUR PRESBYTERIAN CHURCH (EMPC) | Imphal | | |
| EASTERN MANIPUR PRESBYTERIAN CHURCH (EMPC) | Kangpokpi | | |
| ECA CHURCH | Khodang | Completely Burned | 28-May-23 |
| ECI LANGCHING | Langching | Completely Burned | 28-May-23 |
| EVANGELICAL ASSEMBLY CHURCH (EAC) | Saban E | Completely destroyed | 04-May-23 |
| EVANGELICAL ASSEMBLY CHURCH (EAC) | Wongoo Awang | Completely destroyed | 04-May-23 |
| EVANGELICAL BAPTIST CONVENTION CHURCH (EBCC) | Jiribam | Partial Burned | 03-May-23 |
| EVANGELICAL BAPTIST CONVENTION CHURCH (EBCC) | Lamphelpat | Burned & destroyed | 03-May-23 |
| EVANGELICAL BAPTIST CONVENTION CHURCH (EBCC) | Langol | Burned & destroyed | 03-May-23 |
| EVANGELICAL BAPTIST CONVENTION CHURCH (EBCC) | National Games Village | Burned & destroyed | 03-May-23 |
| EVANGELICAL BAPTIST CONVENTION CHURCH (EBCC) | Paite Colony | Burned & destroyed | 03-May-23 |
| EVANGELICAL BAPTIST CONVENTION CHURCH (EBCC) | Paite Veng | Burned & destroyed | 03-May-23 |
| EVANGELICAL BAPTIST CONVENTION CHURCH (EBCC) | Tribal Colony | Burned & destroyed | 03-May-23 |
| EVANGELICAL BAPTIST CONVENTION CHURCH (EBCC) | Vengnuam | Partial Burned | 03-May-23 |
| EVANGELICAL CHURCHES ASSOCIATION (ECA) | Taothong | Completely Burned | 03-May-23 |
| EVANGELICAL CHURCHES ASSOCIATION (ECA) | Dopkon | Completely Burned | 03-May-23 |
| EVANGELICAL CHURCHES ASSOCIATION (ECA) | Game Village | Completely Burned | 03-May-23 |
| EVANGELICAL CHURCHES ASSOCIATION (ECA) | Haokip veng | Completely Burned | 04-May-23 |
| EVANGELICAL CHURCHES ASSOCIATION (ECA) | Haotak Vajang | Completely Burned | 03-May-23 |
| EVANGELICAL CHURCHES ASSOCIATION (ECA) | Iroisemba | Completely Burned | 03-May-23 |
| EVANGELICAL CHURCHES ASSOCIATION (ECA) | Khangabok | Completely Burned | 04-May-23 |
| EVANGELICAL CHURCHES ASSOCIATION (ECA) | Lailampat | Completely Burned | 03-May-23 |
| EVANGELICAL CHURCHES ASSOCIATION (ECA) | Phoilenching | Completely Burned | 03-May-23 |
| EVANGELICAL CHURCHES ASSOCIATION (ECA) | Taothong | | |
| EVANGELICAL CHURCHES ASSOCIATION (ECA) | Tentha, Imphal | Completely Burned | 04-May-23 |
| EVANGELICAL CHURCHES ASSOCIATION (ECA) | Tollen | Completely Burned | 03-May-23 |
| EVANGELICAL FREE CHURCH OF INDIA (EFCI) | Tentha | Destroyed | 03-May-23 |
| EVANGELICAL FREE CHURCH OF INDIA (EFCI) | Lamphel | | |
| EVANGELICAL FREE CHURCH OF INDIA (EFCI) | Ghari | Completely Burned | 04-May-23 |
| EVANGELICAL FREE CHURCH OF INDIA (EFCI) | Keinou | Completely Burned | 04-May-23 |
| EVANGELICAL FREE CHURCH OF INDIA (EFCI) | Lamphel | Completely Vandalised | 04-May-23 |
| EVANGELICAL FREE CHURCH OF INDIA (EFCI) | Langmeidong | Completely Burned | 04-May-23 |
| EVANGELICAL FREE CHURCH OF INDIA (EFCI) | Langol | Ransacked | 04-May-23 |
| EVANGELICAL FREE CHURCH OF INDIA (EFCI) | Langpok | Completely Burned | 04-May-23 |
| EVANGELICAL FREE CHURCH OF INDIA (EFCI) | Leimaram | Completely Burned | 04-May-23 |
| EVANGELICAL FREE CHURCH OF INDIA (EFCI) | Napat | Completely Burned | 04-May-23 |
| EVANGELICAL FREE CHURCH OF INDIA (EFCI) | Sangaiprou | Completely Vandalised | 05-May-23 |
| EVANGELICAL FREE CHURCH OF INDIA (EFCI) | Toupokpi | Completely Burned | 04-May-23 |
| EVANGELICAL FREE CHURCH OF INDIA (EFCI) | Waikhong | Vandalised | 04-May-23 |
| EVANGELICAL ORGANIZATION CHURCH (EOC) | Game Village | Completely Burned | 03-May-23 |
| EVANGELICAL ORGANIZATION CHURCH (EOC) | Khawvaiphai | Completely Burned | 05-May-23 |
| EVANGELICAL ORGANIZATION CHURCH (EOC) | Sarampatong | Completely Burned | 05-May-23 |
| EVANGELICAL ORGANIZATION CHURCH (EOC) | Sualamphai | Completely Burned | 05-May-23 |
| FAITH COMMUNITY CHURCH (FCC) | Tekcham Bazar, Khongjom | Completely Burned | 03-May-23 |
| GOOD SHEPHERD CHURCH | Kairenbikhok | | |
| GOOD SHEPHERD COMMUNITY CHURCH (GSCC) | Heirok Chingon | Destroyed | 03-May-23 |
| HMAR CHRISTIAN CHURCH | New Lambulane | Completely Burned | 05-May-23 |
| HOLY CROSS CHURCH | Kakching Khunou | Completely Burned | 03-May-23 |
| HOLY REDEEMER CHURCH | Canchipur | Completely Burned | 03-May-23 |
| ICI, CHURCH | Chassad Avenue, Imphal | Partially Burned | 23-May-23 |
| INDEPENDENT CHURCH OF INDIA (ICI) | Chana | Destroyed | 04-May-23 |
| INDEPENDENT CHURCH OF INDIA (ICI) | Checkon | Vandalised | 04-May-23 |
| INDEPENDENT CHURCH OF INDIA (ICI) | Imphal | | |
| INDEPENDENT CHURCH OF INDIA (ICI) | Khulakpat | Destroyed | 04-May-23 |
| INDEPENDENT CHURCH OF INDIA (ICI) | Kumbi | Destroyed | 04-May-23 |
| INDEPENDENT CHURCH OF INDIA (ICI) | Lamphel | Completely Burned & Destroyed | 04-May-23 |
| INDEPENDENT CHURCH OF INDIA (ICI) | Langol, Imphal | | |
| INDEPENDENT CHURCH OF INDIA (ICI) | Moirang College Gate | Vandalised | 04-May-23 |
| INDEPENDENT CHURCH OF INDIA (ICI) | Moirangkhuonau | Completely Burned & Destroyed | 04-May-23 |
| INDEPENDENT CHURCH OF INDIA (ICI) | Phubala | Vandalised | 04-May-23 |
| KHANGABOK BAPTIST CHURCH | Khagabok | | |
| KOMREM BAPTIST CHURCH (KBC) | Imphal Area | Completely Burned | 03-May-23 |
| KUKI BAPTIST CONVENTION CHURCH (KBCC) | Chassad Avenue | Burned & Destroyed | 04-May-23 |
| KUKI BAPTIST CONVENTION CHURCH (KBCC) | Gamnomphai | Burned & Destroyed | 04-May-23 |
| KUKI BAPTIST CONVENTION CHURCH (KBCC) | Gotengphai | Burned & Destroyed | 04-May-23 |
| KUKI BAPTIST CONVENTION CHURCH (KBCC) | H.Champhai | Burned & Destroyed | 04-May-23 |
| KUKI BAPTIST CONVENTION CHURCH (KBCC) | H.Kholen | Burned & Destroyed | 04-May-23 |
| KUKI BAPTIST CONVENTION CHURCH (KBCC) | Haokip veng | Burned & Destroyed | 04-May-23 |
| KUKI BAPTIST CONVENTION CHURCH (KBCC) | Kamuching | Burned & Destroyed | 04-May-23 |
| KUKI BAPTIST CONVENTION CHURCH (KBCC) | L.Jangnomphai | Burned & Destroyed | 04-May-23 |
| KUKI BAPTIST CONVENTION CHURCH (KBCC) | Lamphel | Burned & Destroyed | 04-May-23 |
| KUKI BAPTIST CONVENTION CHURCH (KBCC) | Lamphel | Completely Burned | 06-May-23 |
| KUKI BAPTIST CONVENTION CHURCH (KBCC) | Langol | Burned & Destroyed | 04-May-23 |
| KUKI BAPTIST CONVENTION CHURCH (KBCC) | Leimakhong | Burned & Destroyed | 04-May-23 |
| KUKI BAPTIST CONVENTION CHURCH (KBCC) | National Games Village | Burned & Destroyed | 04-May-23 |
| KUKI BAPTIST CONVENTION CHURCH (KBCC) | New Lambulane | Burned & Destroyed | 04-May-23 |
| KUKI BAPTIST CONVENTION CHURCH (KBCC) | P.Khonomphai | Burned & Destroyed | 04-May-23 |
| KUKI BAPTIST CONVENTION CHURCH (KBCC) | S.Khopi | Burned & Destroyed | 04-May-23 |
| KUKI BAPTIST CONVENTION CHURCH (KBCC) | S.Khothah | Burned & Destroyed | 04-May-23 |
| KUKI BAPTIST CONVENTION CHURCH (KBCC) | Sajal | Burned & Destroyed | 04-May-23 |
| KUKI BAPTIST CONVENTION CHURCH (KBCC) | TL Gamngai | Burned & Destroyed | 04-May-23 |
| KUKI BAPTIST CONVENTION CHURCH (KBCC) | Tollen | Burned & Destroyed | 04-May-23 |
| KUKI BAPTIST CONVENTION CHURCH (KBCC) | Wakan | Burned & Destroyed | 04-May-23 |
| KUKI CHRISTIAN CHURCH (KCC) | Aihang | Burned& Demolished | 05-May-23 |
| KUKI CHRISTIAN CHURCH (KCC) | Bungbalkhawlien | Burned& Demolished | 05-May-23 |
| KUKI CHRISTIAN CHURCH (KCC) | Chaningpokpi | Burned& Demolished | 06-May-23 |
| KUKI CHRISTIAN CHURCH (KCC) | Game Village | Burned& Demolished | 04-May-23 |
| KUKI CHRISTIAN CHURCH (KCC) | Haotah Phailen | Burned& Demolished | 06-May-23 |
| KUKI CHRISTIAN CHURCH (KCC) | Imphal | Burned& Demolished | 04-May-23 |
| KUKI CHRISTIAN CHURCH (KCC) | Khongsai Veng | Burned& Demolished | 04-May-23 |
| KUKI CHRISTIAN CHURCH (KCC) | Moljol | Burned& Demolished | 06-May-23 |
| KUKI CHRISTIAN CHURCH (KCC) | Sadar Joute | Burned& Demolished | 04-May-23 |
| KUKI CHRISTIAN CHURCH (KCC) | Sarampatong | Burned& Demolished | 05-May-23 |
| KUKI CHRISTIAN CHURCH (KCC) | T. Mongjang | Burned& Demolished | 04-May-23 |
| KUKI CHRISTIAN CHURCH (KCC) | Theilei | Burned& Demolished | 03-May-23 |
| KUKI CHRISTIAN CHURCH (KCC) | VK. Mongbung | Burned& Demolished | 04-May-23 |
| LANGATHE BAPTIST CHURCH | Langathel | | |
| LANGTHABAL BAPTIST CHURCH | Langthabal | | |
| MANIPUR EVANGELICAL LUTHERAN CHURCH (MELC) | Chairen | Burned& Vandalised | 04-May-23 |
| MANIPUR EVANGELICAL LUTHERAN CHURCH (MELC) | Imphal | Completely Burned | 04-May-23 |
| MANIPUR EVANGELICAL LUTHERAN CHURCH (MELC) | Tentha | Completely Burned | 04-May-23 |
| MANIPUR PRESBYTERIAN CHURCH SYNOD | Gpc Langgol | | |
| MANIPUR PRESBYTERIAN CHURCH SYNOD | Heiroklian | | |
| MANIPUR PRESBYTERIAN CHURCH SYNOD | K. Sharonphai | | |
| MANIPUR PRESBYTERIAN CHURCH SYNOD | K. Tangnuam | | |
| MANIPUR PRESBYTERIAN CHURCH SYNOD | L Vaiphei Veng | | |
| MANIPUR PRESBYTERIAN CHURCH SYNOD | Maitri Pukhri | | |
| MANIPUR PRESBYTERIAN CHURCH SYNOD | New Lambulane | | |
| MANIPUR PRESBYTERIAN CHURCH SYNOD | Nongpok | | |
| MANIPUR PRESBYTERIAN CHURCH SYNOD | P. Thianzawl | | |
| MANIPUR PRESBYTERIAN CHURCH SYNOD | Phainum | | |
| MANIPUR PRESBYTERIAN CHURCH SYNOD | Th. Salemphai | | |
| MANIPUR PRESBYTERIAN CHURCH SYNOD | Thinnamphai | | 04-May-23 |
| MANIPUR PRESBYTERIAN CHURCH SYNOD (MPCS) | Chingphu, Bishnupur Dist. | Partial Destroyed | 04-May-23 |
| MANIPUR PRESBYTERIAN CHURCH SYNOD (MPCS) | Keiren, (Leimapokpam), Bishnupur Dist. | Complete Demolished | 04-May-23 |
| MANIPUR PRESBYTERIAN CHURCH SYNOD (MPCS) | Leimaram Awang Leikai, Bishnupur Dist. | Partial Destroyed | 04-May-23 |
| MANIPUR PRESBYTERIAN CHURCH SYNOD (MPCS) | Leimaram Makha Leikai, Bishnupur Dist. | Partial Destroyed | 04-May-23 |
| MANIPUR PRESBYTERIAN CHURCH SYNOD (MPCS) | Terakhongsangbi, Bishnupur Dist. | Completely Burned | 03-May-23 |
| MANIPUR PRESBYTERIAN CHURCH SYNOD (MPCS) | Waroiching, Bishnupur Dist. | Partial Destroyed | 04-May-23 |
| MANIPUR PRESBYTERIAN CHURCH SYNOD (MPCS) | L. Lhangnom, Kangpokpi Dist. | Completely Burned | 04-May-23 |
| MANIPUR PRESBYTERIAN CHURCH SYNOD (MPCS) | N. Terakhong, Kangpokpi Dist. | Completely Burned | 04-May-23 |
| MANIPUR PRESBYTERIAN CHURCH SYNOD (MPCS) | New Checkon Road., Imphal East Dist. | Partial Destroyed | 03-May-23 |
| MANIPUR PRESBYTERIAN CHURCH SYNOD (MPCS) | Sekmai, Imphal East Dist. | Completely destroyed | 03-May-23 |
| MANIPUR PRESBYTERIAN SINGLUP | Bishnupur | | |
| MANIPUR PRESBYTERIAN SINGLUP | Heisnam | | |
| MANIPUR PRESBYTERIAN SINGLUP | Ithai | | |
| MANIPUR PRESBYTERIAN SINGLUP | Kumbi | | |
| MANIPUR PRESBYTERIAN SINGLUP | Kumbi thingel leikai | | |
| MANIPUR PRESBYTERIAN SINGLUP | Kumbi uyung makhong | | |
| MANIPUR PRESBYTERIAN SINGLUP | Moirang | | |
| MANIPUR PRESBYTERIAN SINGLUP | Moirang khunou | | |
| MANIPUR PRESBYTERIAN SINGLUP | Moiranghanuba | | |
| MANIPUR PRESBYTERIAN SINGLUP | Nambol | | |
| MANIPUR PRESBYTERIAN SINGLUP | Naranseina | | |
| MANIPUR PRESBYTERIAN SINGLUP | Ngangkha | | |
| MANIPUR PRESBYTERIAN SINGLUP | Ningthoukhong | | |
| MANIPUR PRESBYTERIAN SINGLUP | Phubala | | |
| MANIPUR PRESBYTERIAN SINGLUP | Thinungei | | |
| MANIPUR PRESBYTERIAN SINGLUP | Tronglaobi | | |
| MANIPUR PRESBYTERIAN SINGLUP | Chingtha | | |
| MANIPUR PRESBYTERIAN SINGLUP | Kakching khunou | | |
| MANIPUR PRESBYTERIAN SINGLUP | Kwakeithel | | |
| MANIPUR PRESBYTERIAN SINGLUP | Lairok | | |
| MANIPUR PRESBYTERIAN SINGLUP | Nangkha | | |
| MANIPUR PRESBYTERIAN SINGLUP | Sarik | | |
| MANIPUR PRESBYTERIAN SINGLUP | Thanga ngaram | | |
| MANIPUR PRESBYTERIAN SINGLUP | Tokpaching | | |
| MANIPURI PRESBYTERIAN CHURCH, MIZORAM SYNOD | Ngangkha, Bishnupur Dist. | Destroyed | 04-May-23 |
| MANIPURI PRESBYTERIAN CHURCH, MIZORAM SYNOD | Chingkha, Bishnupur Dist. | Completely Burned | 04-May-23 |
| MANIPURI PRESBYTERIAN CHURCH, MIZORAM SYNOD | Heisnam, Bishnupur Dist. | Completely destroyed | 04-May-23 |
| MANIPURI PRESBYTERIAN CHURCH, MIZORAM SYNOD | Ithai, Bishnupur Dist. | Completely Burned | 03-May-23 |
| MANIPURI PRESBYTERIAN CHURCH, MIZORAM SYNOD | Awang Khunou, Imphal West Dist. | Demolished | 04-May-23 |
| MANIPURI PRESBYTERIAN CHURCH, MIZORAM SYNOD | Kwakeithel, Imphal West Dist. | Destroyed | 04-May-23 |
| MEITEI BAPTIST ASSOCIATION (MBA) | Lamding | Destroyed | 03-May-23 |
| MEITEI BAPTIST ASSOCIATION (MBA) | Moreh | Destroyed | 03-May-23 |
| MEITEI BAPTIST ASSOCIATION (MBA) | Wangjing | Destroyed | 03-May-23 |
| MEITEI EVANGELICAL BAPTIST CONVENTION CHURCH (EBCC) | Awang Jiri Leikai | Burned & destroyed | 03-May-23 |
| MEITEI EVANGELICAL BAPTIST CONVENTION CHURCH (EBCC) | Chingkha | Burned & destroyed | 03-May-23 |
| MEITEI EVANGELICAL BAPTIST CONVENTION CHURCH (EBCC) | Heisnam | Burned & destroyed | 03-May-23 |
| MEITEI EVANGELICAL BAPTIST CONVENTION CHURCH (EBCC) | Kangmong | Burned & destroyed | 03-May-23 |
| MEITEI EVANGELICAL BAPTIST CONVENTION CHURCH (EBCC) | Khordak | Burned & destroyed | 03-May-23 |
| MEITEI EVANGELICAL BAPTIST CONVENTION CHURCH (EBCC) | Khunou | Burned & destroyed | 03-May-23 |
| MEITEI EVANGELICAL BAPTIST CONVENTION CHURCH (EBCC) | Kwakeithel | Burned & destroyed | 03-May-23 |
| MEITEI EVANGELICAL BAPTIST CONVENTION CHURCH (EBCC) | Maidram | Burned & destroyed | 03-May-23 |
| MEITEI EVANGELICAL BAPTIST CONVENTION CHURCH (EBCC) | Mangjing Leikai | Burned & destroyed | 03-May-23 |
| MEITEI EVANGELICAL BAPTIST CONVENTION CHURCH (EBCC) | Nachou | Burned & destroyed | 03-May-23 |
| MEITEI EVANGELICAL BAPTIST CONVENTION CHURCH (EBCC) | Nambol | Burned & destroyed | 03-May-23 |
| MEITEI EVANGELICAL BAPTIST CONVENTION CHURCH (EBCC) | Naranseina | Burned & destroyed | 03-May-23 |
| MEITEI EVANGELICAL BAPTIST CONVENTION CHURCH (EBCC) | Thamnapokpi | Burned & destroyed | 03-May-23 |
| MEITEI EVANGELICAL BAPTIST CONVENTION CHURCH (EBCC) | Thanga Salam | Burned & destroyed | 03-May-23 |
| MEITEI EVANGELICAL BAPTIST CONVENTION CHURCH (EBCC) | Thiyam Kongin | Burned & destroyed | 03-May-23 |
| MEITEI EVANGELICAL BAPTIST CONVENTION CHURCH (EBCC) | Thoubal Khunou | Burned & destroyed | 03-May-23 |
| MEITEI EVANGELICAL BAPTIST CONVENTION CHURCH (EBCC) | Thya Konjin | Burned & destroyed | 03-May-23 |
| MEITEI EVANGELICAL BAPTIST CONVENTION CHURCH (EBCC) | Toubul | Burned & destroyed | 03-May-23 |
| MEITEI EVANGELICAL BAPTIST CONVENTION CHURCH (EBCC) | Wapokpi | Burned & destroyed | 03-May-23 |
| MEITEI PRESBYTERIAN SINGLUP SYNOD | Bishnupur, Bishnupur Dist. | Destroyed | 03-May-23 |
| MEITEI PRESBYTERIAN SINGLUP SYNOD | Heisnam, Bishnupur Dist. | Completely destroyed | |
| MEITEI PRESBYTERIAN SINGLUP SYNOD | Keinou, Bishnupur Dist. | Demolished | 05-May-23 |
| MEITEI PRESBYTERIAN SINGLUP SYNOD | Kumbi Thingel Leikai, Bishnupur Dist. | Destroyed | 03-May-23 |
| MEITEI PRESBYTERIAN SINGLUP SYNOD | Kumbi Uyung Makhong, Bishnupur Dist. | Destroyed | 03-May-23 |
| MEITEI PRESBYTERIAN SINGLUP SYNOD | Kumbi, Bishnupur Dist. | Destroyed | 03-May-23 |
| MEITEI PRESBYTERIAN SINGLUP SYNOD | Moirang Hanuba, Imphal West Dist. | Demolished | 04-May-23 |
| MEITEI PRESBYTERIAN SINGLUP SYNOD | Moirang Turenban, Bishnupur Dist. | Completely Burned | 03-May-23 |
| MEITEI PRESBYTERIAN SINGLUP SYNOD | Moirang, Bishnupur Dist. | Burned & Destroyed | 03-May-23 |
| MEITEI PRESBYTERIAN SINGLUP SYNOD | Moirangkhunou, Bishnupur Dist. | Destroyed | 03-May-23 |
| MEITEI PRESBYTERIAN SINGLUP SYNOD | Nachou, Bishnupur Dist. | Burned & Destroyed | 03-May-23 |
| MEITEI PRESBYTERIAN SINGLUP SYNOD | Nambol, Bishnupur Dist. | Completely Burned | 03-May-23 |
| MEITEI PRESBYTERIAN SINGLUP SYNOD | Naranseina, Bishnupur Dist. | Destroyed | 03-May-23 |
| MEITEI PRESBYTERIAN SINGLUP SYNOD | Ngaikhong Khulen, Bishnupur Dist. | Demolished | 05-May-23 |
| MEITEI PRESBYTERIAN SINGLUP SYNOD | Ngaikhong, Bishnupur Dist. | Demolished | 05-May-23 |
| MEITEI PRESBYTERIAN SINGLUP SYNOD | Ngakchou, Bishnupur Dist. | Demolished | 05-May-23 |
| MEITEI PRESBYTERIAN SINGLUP SYNOD | Ningthoukhong, Bishnupur Dist. | Burned & Destroyed | 03-May-23 |
| MEITEI PRESBYTERIAN SINGLUP SYNOD | Oinam, Bishnupur Dist. | Demolished | 05-May-23 |
| MEITEI PRESBYTERIAN SINGLUP SYNOD | Phubala, Bishnupur Dist. | Burned & Destroyed | 03-May-23 |
| MEITEI PRESBYTERIAN SINGLUP SYNOD | Thanga Ngaram, | Burned & Destroyed | 03-May-23 |
| MEITEI PRESBYTERIAN SINGLUP SYNOD | Thanga Ngaram, Bishnupur Dist. | Burned & Destroyed | 05-May-23 |
| MEITEI PRESBYTERIAN SINGLUP SYNOD | Thanga Salam, Bishnupur Dist. | Destroyed | 05-May-23 |
| MEITEI PRESBYTERIAN SINGLUP SYNOD | Thinungei, Bishnupur Dist. | Destroyed | 03-May-23 |
| MEITEI PRESBYTERIAN SINGLUP SYNOD | Thoubal, Thoubal Dist. | Destroyed | 05-May-23 |
| MEITEI PRESBYTERIAN SINGLUP SYNOD | Tronglaobi, Bishnupur Dist. | Completely Burned | 03-May-23 |
| MEITEI PRESBYTERIAN SINGLUP SYNOD | Arong, Kakching Dist. | Destroyed | 05-May-23 |
| MEITEI PRESBYTERIAN SINGLUP SYNOD | Charangpat, Thoubal Dist. | Destroyed | 05-May-23 |
| MEITEI PRESBYTERIAN SINGLUP SYNOD | Kakching Khunou, Kakching Dist. | Destroyed by JCB | 04-May-23 |
| MEITEI PRESBYTERIAN SINGLUP SYNOD | Kwakeithel Mission Compound, Imphal West Dist. | Demolished & Burned | 04-May-23 |
| MEITEI PRESBYTERIAN SINGLUP SYNOD | Lairok, Kakching Dist. | Demolished | 04-May-23 |
| MEITEI PRESBYTERIAN SINGLUP SYNOD | Langol, Imphal West | Completely Burned | 03-May-23 |
| MEITEI PRESBYTERIAN SINGLUP SYNOD | Mayang Imphal, Imphal West Dist. | Destroyed | 05-May-23 |
| MEITEI PRESBYTERIAN SINGLUP SYNOD | Salungpham, Thoubal Dist. | Destroyed | 05-May-23 |
| MEITEI PRESBYTERIAN SINGLUP SYNOD | Sarik, Kakching Dist. | Demolished | 04-May-23 |
| MEITEI PRESBYTERIAN SINGLUP SYNOD | Sekmaijing, Kakching Dist. | Destroyed | 05-May-23 |
| MEITEI PRESBYTERIAN SINGLUP SYNOD | Tokpa Ching, Kakching Dist. | Demolished | 04-May-23 |
| MEITEI PRESBYTERIAN SINGLUP SYNOD | Uchiwa, Imphal West Dist. | Destroyed | 05-May-23 |
| MEITEI PRESBYTERIAN SINGLUP SYNOD | Ukhongsang, Thoubal Dist. | Destroyed | 05-May-23 |
| MEITEI PRESBYTERIAN SINGLUP SYNOD | Warukok, Kakching Dist. | Destroyed | 05-May-23 |
| MEITEI PRESBYTERIAN SINGLUP SYNOD | Yaripok, Thoubal Dist. | Destroyed | 05-May-23 |
| MOIRANG BAPTIST CHURCH | Moirang | | |
| NEW TESTAMENT BAPTIST CURCH ASSN | Airport Rd, Imphal | | |
| NEW TESTAMENT BAPTIST CHURCH (NTBC) | Tekcham, Khongjom | Completely Burned | 03-May-23 |
| NEW TESTAMENT BAPTIST CHURCHES ASSOCIATION (NTBCA) | Changangei | Burned & destroyed | 04-May-23 |
| NEW TESTAMENT BAPTIST CHURCHES ASSOCIATION (NTBCA) | Ingorok | Burned & destroyed | 03-May-23 |
| NEW TESTAMENT BAPTIST CHURCHES ASSOCIATION (NTBCA) | Tekcham | Burned & destroyed | 03-May-23 |
| NEW TESTAMENT BAPTIST CHURCHES ASSOCIATION (NTBCA) | U-Checkon | Burned & destroyed | 03-May-23 |
| PRESBYTERIAN CHURCH OF INDIA - REFORMED(PCI-R) | Asha | Burned & Vandalised | 04-May-23 |
| PRESBYTERIAN CHURCH OF INDIA - REFORMED(PCI-R) | Naudakhong | Burned & Vandalised | 04-May-23 |
| PRESBYTERIAN CHURCH OF INDIA - REFORMED(PCI-R) | Nungshida | Burned & Vandalised | 04-May-23 |
| PUKHAO TERA PURPOSE BAPTIST CHURCH | Pukhao Tera | | |
| REFORMED PRESBYTERIAN CHURCH NEI (RPCNEI) | Keibul | Burned & Vandalised | 05-May-23 |
| REFORMED PRESBYTERIAN CHURCH NEI (RPCNEI) | Langol, Imphal | Burned & Vandalised | 03-May-23 |
| REFORMED PRESBYTERIAN CHURCH NEI (RPCNEI) | Tokpaching | Destroyed | 05-May-23 |
| REFORMED PRESBYTERIAN CHURCH NEI (RPCNEI) | Keirenphabi | Destroyed | 05-May-23 |
| RONGMEI NAGA BAPTIST CHURCH (RNBA) | Imphal | Completely Burned | 03-May-23 |
| SALVATION ARMY (MEITEI) | Chairel | Completely Burned | 04-May-23 |
| SALVATION ARMY (MEITEI) | Kwakeithel | Completely Burned | 04-May-23 |
| SAPAM BAPTIST CHURCH | Sapam | | |
| ST. PAUL CHURCH | Sangaiprou, Imphal | Completely Burned | 03-May-23 |
| TANGPHAI PRESBYTERIAN CHURCH SYNOD(TPCS) | B Phainuam, Kangpokpi Dist | Completely Burned | 03-May-23 |
| TANGPHAI PRESBYTERIAN CHURCH SYNOD(TPCS) | Game Village,Imphal West | Completely Burned | 04-May-23 |
| TANGPHAI PRESBYTERIAN CHURCH SYNOD(TPCS) | GPC Langol, Imphal West | Completely Burned | 06-May-23 |
| TANGPHAI PRESBYTERIAN CHURCH SYNOD(TPCS) | Heiroklen, Kangpokpi Dist | Completely Burned | 06-May-23 |
| TANGPHAI PRESBYTERIAN CHURCH SYNOD(TPCS) | K Sharonphai, Kangpokpi Dist | Completely Burned | 06-May-23 |
| TANGPHAI PRESBYTERIAN CHURCH SYNOD(TPCS) | K Tangnuam, Kangpokpi Dist | Completely Burned | 06-May-23 |
| TANGPHAI PRESBYTERIAN CHURCH SYNOD(TPCS) | L Vaiphei Veng, Imphal West | Completely Burned | 05-May-23 |
| TANGPHAI PRESBYTERIAN CHURCH SYNOD(TPCS) | Mantripukri, Imphal West | Completely Burned | 03-May-23 |
| TANGPHAI PRESBYTERIAN CHURCH SYNOD(TPCS) | New Lambulane, Imphal West | Completely Burned | 04-May-23 |
| TANGPHAI PRESBYTERIAN CHURCH SYNOD(TPCS) | Nongpokphaijang Kangpokpi | Completely Burned | 04-May-23 |
| TANGPHAI PRESBYTERIAN CHURCH SYNOD(TPCS) | P Thianzawl, Imphal East | Completely Burned | 03-May-23 |
| TANGPHAI PRESBYTERIAN CHURCH SYNOD(TPCS) | Phainuam, Kangpokpi Dist | Completely Burned | 03-May-23 |
| TANGPHAI PRESBYTERIAN CHURCH SYNOD(TPCS) | Th.Salemphai, Kangpokpi | Completely Burned | 04-May-23 |
| TANGPHAI PRESBYTERIAN CHURCH SYNOD(TPCS) | Tuinuamphai, Kangpokpi Dist | Completely Burned | 06-May-23 |
| TANGPHAI PRESBYTERIAN CHURCH SYNOD(TPCS) | Chingmei, Bishenpur Dist | Completely Burned | 06-May-23 |
| TEKCHAM BAPTIST CHURCH (TEKCHAM MANING) | Tekchanm Maning | | |
| THAMNAPOKPI BAPTIST CHURCH | Thamnapokpi | | |
| THOUBAL BAPTIST CHURCH | Thoubal | | |
| TOKPACHING BAPTIST CHURCH | Tokpaching | | |
| TUITAPHAI PRESBYTERIAN CHURCH | Chekon | | |
| TUITAPHAI PRESBYTERIAN CHURCH | L Thangnom | | |
| TUITAPHAI PRESBYTERIAN CHURCH | Leimaram | | |
| TUITAPHAI PRESBYTERIAN CHURCH | Leimaram  Makha | | |
| TUITAPHAI PRESBYTERIAN CHURCH | Mantripukhri | | |
| TUITAPHAI PRESBYTERIAN CHURCH | Chingphu | | |
| TUITAPHAI PRESBYTERIAN CHURCH | Keiren | | |
| TUITAPHAI PRESBYTERIAN CHURCH | Terakhong | | |
| TUITAPHAI PRESBYTERIAN CHURCH | Terakhongsanbi | | |
| TUITAPHAI PRESBYTERIAN CHURCH (3) | Kangwai | | |
| UNION BAPTIST CHURCH (UBC) | Kakching Irum Mapan | Completely Burned | 03-May-23 |
| UNITED PENTECOSTAL CHURCH | | | |
| UPC MZ CHURCH | Wangbal, Thoubal | Completely Burned | 04-May-23 |
| UPC MZ CHURCH BUILDING | Game village | Completely Burned | 03-May-23 |
| UPC NEI CHURCH | Kakching | Destroyed | 03-May-23 |
| VAIPHEI BAPTIST CHURCHES ASSOCIATION (VBCA) | Happy Valley | Completely Burned | 03-May-23 |
| VAIPHEI BAPTIST CHURCHES ASSOCIATION (VBCA) | K Wangkhem | Completely Burned | 03-May-23 |
| VAIPHEI BAPTIST CHURCHES ASSOCIATION (VBCA) | Lairok | Completely Burned | 06-May-23 |
| VAIPHEI BAPTIST CHURCHES ASSOCIATION (VBCA) | S Phaiza | Completely Burned | 05-May-23 |
| VAIPHEI BAPTIST CHURCHES ASSOCIATION (VBCA) | Salam Patong | Completely Burned | 04-May-23 |
| VAIPHEI BAPTIST CHURCHES ASSOCIATION (VBCA) | Vaiphei Veng | Completely Burned | 03-May-23 |
| WANGJIN CENTRE BAPTIST CHURCH | Wangjin | | |
| ZOU PRESBYTERIAN CHURCH SYNOD (ZPCS) | Lamphel | Completely Burned | 04-May-23 |
| ZOU PRESBYTERIAN CHURCH SYNOD (ZPCS) | Bishnupur | Completely Burned | 04-May-23 |
Note: The list of churches