Please connect with us at one of our events below.
Venue: 8504 E Skelly Dr, Tulsa, OK 74129
You are cordially invited to the Charity Concert for Tribals in Manipur at ZBCM of Tulsa Oklahoma on July 22nd. 
More details here! UNAU Solidarity Charity Concert – NAMTA
Email chibai@namta.us for any questions. 
Venue: 9222 S. harvard Ace, Tulsa, Oklahoma 74137
Join us at our rally on June 24, 2023, where we'll strive to increase global awareness about the ethnic cleansing of tribals in Manipur, advocate for the rights and protections of the tribal communities in Manipur, and urge for an immediate, peaceful resolution to the conflict.
Partners: Zomi Inkuan, Tulsa Chapter
Please email chibai@namta.us for any questions.
Venue: US Capitol Grounds and White House, Washington DC
Please join us for the vigil and rally to be held in Washington DC on June 22, 2023 and June 24, 2024 at the White House
Watch the full event here:
https://www.facebook.com/namtaus/videos/617275827165706
See flyer for more details.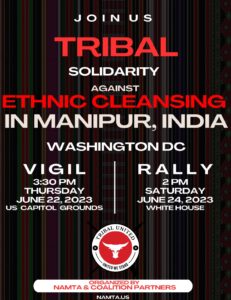 Email chibai@namta.us for any questions
Aug 13 to Aug 19 – Global Week of Action Against Ethnic Cleansing
August 13, 2023, Hunter Park Tulsa, OK
August 13, 2023 Santana Row/Stevens Creek (Location Updated) , San Jose, CA