NAMTA
NORTH AMERICAN MANIPUR TRIBAL ASSOCIATION
1302 East Collins Boulevard, Suite 111, Richardson, TX 75081
namta.us | admin@namta.us
Date: Fri, July 7, 2023
Subject: A Letter of Support for Prof. Kham Khan Suan Hausing, Condemnation of attacks on the Right to Freedom of Speech and Expression, and Appeal for Upholding the Foundations of Democracy and Justice, including Academic Freedom.
(Download PDF version here: NAMTA_In_Defense_of__Prof_Hausing)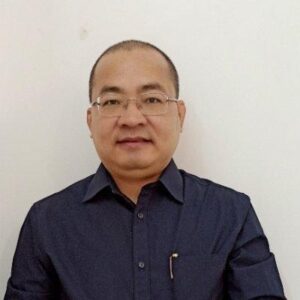 It has come to NAMTA's attention that on July 6, 2023, the Chief Judicial Magistrate, Imphal East, Manipur, summoned Professor Kham Khan Suan Hausing following a complaint petition filed by one Mr. Moirangthem Manihar Singh regarding certain views expressed by Prof. Hausing in 'The Interview with Karan Thapar' show on The Wire. The complainant has accused Prof. Hausing of allegedly making derogatory remarks against the "holy religious site" associated with the Meiteis, "false statements" to defame the Meiteis, and creating "more
communal enmity." We vehemently oppose the sanctimonious attempts to silence and defame Prof. Hausing and stand in firm solidarity with his objective analysis and public intellectual interventions on the complex dimensions of the ongoing ethnic violence in Manipur. First, Article 19(1)(a) of the Indian Constitution guarantees all citizens the Right to Freedom of Speech and Expression. This right is a firewall for democracy, safeguards citizens from tyranny and despotism, and is an inalienable part of modern liberal societies. If the complainant(s) had genuine and legitimate concerns about fostering religious and communal harmony between the Meitei and Kuki-Zomis, they would:
1) Condemn the burning and vandalizing of hundreds of churches in Imphal and other
parts of Manipur by violent Meitei mobs and miscreants. They have not.
2) Take the moral and collective responsibility to hold Mr. Pramot Singh of the Meitei
Leepun accountable for perpetuating mistrust and animosity between communities by
brazenly making a genocide threat against the Kuki-Zomis on 'The Interview with
Karan Thapar,' The Wire, on June 6, 2023. They have not.
3) Most importantly, condemn the most pernicious ways in which the Meitei academic and
JNU faculty, Prof. Bhagat Oinam, apathetically justified the barbaric beheading of a Kuki-Zomi man David Thiek and rationalized the grotesque crime as somehow
qualifying the Meiteis to be included in the Schedule Tribe list in a discussion on
News9 Live on July 3, 2023. With his highly insensitive comments, he downplayed the inhumane beheading, implicitly condoned the violence against a Kuki-Zomi, and hurt the sentiments of the Kuki-Zomi community mourning the loss of a brother defending his village from heavily armed Meitei militia.
Based on these factors, the complaint leveled against Prof. Hausing by Mr. Singh and the order passed by the Chief Judicial Magistrate without properly examining the merits of the materials presented is specious and prejudicial to the cause of justice and impartiality. The complaint is a malicious attempt with malafide intent to tarnish Prof. Hausing's image and deny him his freedom of speech and expression guaranteed under Article 19(1)(a) of the Indian Constitution.
Second, like freedom of the press, academic freedom is a foundation of Indian democracy and commitment to justice. Academic freedom allows scholars and intellectuals to explore all avenues of scholarship, research, and creative expression and reach conclusions according to their scholarly discernment and research findings. As a senior and respected faculty at the University of Hyderabad and a private citizen of India, Prof. Hausing must be allowed the
broadest possible latitude to share his research findings and matters of grave public concern without undue censorship and threats.
Prof. Hausing has extensively researched and published on conflicts and autonomy issues in Manipur and Northeast India for over twenty years, and his work has attracted national and international audiences. His writings and public
intellectual interventions on the ongoing ethnic crisis in Manipur are informed by credible facts and objective analysis. Prof. Hausing's insights on 'The Interview with Karan Thapar' on June 17, 2023, were informed by scholarly observations and analysis of complex and sensitive social realities. He clearly stated that the erection of the Thangjing stone monolith in Chivu and the declaration of Mount Koubru as a 'laipham' (the seat of Lainingthou Sanamahi, the supreme deity of the
Meiteis) in October 2022 were perceived by the Kuki-Zomi hill tribes as a 'sacralization project' and the Manipur state's latent attempts to appropriate tribal lands. The views expressed underscore the sentiments of the Kuki-Zomi indigenous tribals and Prof. Hausing echoed their collective grievances. His statement was neither a 'derogatory' remark toward the 'holy religious site' proclaimed by Meiteis nor intended to promote 'communal enmity'
between communities. One can surmise that only entities with vested interests would intentionally de-contextualize the contextualized field observations of a scholar with substantive expertise on Manipur's social, political, and cultural economy, to create enmity between communities of Manipur.
Finally, it is our earnest hope that the Supreme Court of India will take immediate suo motu cognizance of the wrongful framing and malafide intent of the complaint against Prof. Hausing and will peremptorily quash the order to uphold a citizen's fundamental rights protected by the Indian Constitution. We condemn the continued and selective targeting of scholars, intellectuals, activists, and community leaders from the Kuki-Zomi community who exercise their freedom of speech and expression and participate in panel discussions to share legitimate grievances. We also appeal to academics, regardless of community allegiance, to come together to counter censorship by building solidarity, challenging questionable punitive actions in the courts, and informing the public of the downsides of not having any critique of government policies from academia. NAMTA stands in solidarity with Prof. Kham Khan Suan Hausing and will continue to speak up and speak out against unethical attempts to discredit
the integrity and credibility of those that stand up for freedom, justice, and equity.
In solidary,
Niang Hangzo                                                                    
VP Communications, NAMTA
Lien Gangte
President, NAMTA Canada
NAMTA Press Release : A Letter of Support for Prof. Kham Khan Suan Hausing